It's stock, basically, and that is not enough for lunch. But also, the vitriol she receives is not always entirely deserved
A video of GP discussing what is gravely called her "Wellness Protocol" with a heavily Botoxed character called Will Cole, while she receives some kind of intravenous infusion, is proving reliably triggering for all the Internet.
I sometimes wonder if GP does it just to fuck with us all and after she's off air she'll say to her 'people', "Ha, that'll get the proles in a lather, come on lads, flatulence and bloat be damned, let's go for a pint or five of the landlord's finest macrobiotic live ale to celebrate all the rectal ozone balloons and bone broth enema kits we're going to sell tonight. Huzzah!"
Actually, I think she does it to get me to write Substacks. I've got to stop writing those other vast treatise on boring wellness things that I put behind the paywall because they might actually change my life - like cold, dopamine, moderating drink (Sober Spring starts tomorrow, anyone doing it? It's the big school version of Dry Jan and three months long) and other dreary stuff that actually works. But no one reads them. No one can concentrate on anything except celebrities and quick fixes. So I must start churning out popular nonce stuff about The News and What is Hot on TikTok
.
No time like the present, so let's return to the lazy journalists delight that is Ms Paltrow, the wellness influencer and entrepreneur formerly known as an Oscar winning actress.
Part of her daily wellness schedule includes a "nice intermittent fast", drinking coffee until 12 when she might have soup or some bone broth, she then eats an early dinner. So far, so wellness hot right now. So why do I find that incredibly annoying, even though most days I drink black coffee and fast til 11 or so and then have soup, and I make bone broth myself (or 'stock' as those of us who do not fetishise the delicious liquid result of boiling bones in water for a couple of hours call it). I too eat supper much earlier than I used to, when I can.
She talks about "supporting my detox" and one immediately wonders what she is detoxing from. She does look pale and wan so maybe she swallowed some radiation or has picked up a pesky smack habit, perhaps she has hit the bottle hard, perhaps that IV drip is making her feel weird, perhaps her IV has sherry in it? Anyway, Gwyneth it seems is "detoxing" because she has long Covid and a lot of the things she talks about are a means of tackling populations of bad things in her body, including the rectal ozone therapy and including the stock, sorry, 'bone broth'.
I wish it wasn't irritating, but it is. Here is the podcast if you want to listen
Cole is her Doctor apparently (he is an osteopath and a functional medicine practitioner but that's OK, I'm not judging). I know some of my colleagues in journalism could savage every syllable she utters and to be honest, in my head, there is another version of this story that I am writing in my head that is really fucking nasty. But I don't want to put that shit out there, it says more about me than her. Also, I am afraid I don't think the stuff she was talking about it actually that weird.
There are many different ways of coming at health and if you are functionally more or less well, as she is (she claims to have long Covid but possibly not that bad as she hasn't stopped exercising), then you don't go to a proper medical doctor, you go to someone else and you pay them (Cole is about $700 an hour) to nurture your wellness. Those last three words are probably best said in an American accent. (Come to think of it, you pay for all healthcare attention in the US.) (Sorry, lot of brackets going down here. It's late.)
There has been a right ol' hullaballoo arising from this hour long interview. Her discussion of rectal ozone therapy made everyone so angry. Also, she described some of her favourite IV infusions, one of which is apparently very hard to find but other people have pointed out helpfully is so so rare that it occurs in the perfect dose for the human body in this weird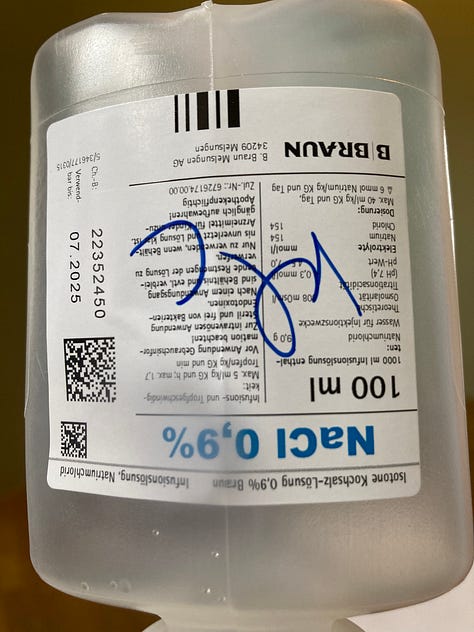 thing called an egg.
I had some IV's recently for a story and they made me feel peculiar, my eyes sort of bobbled in my skull with the overwhelmingness of it all. My jury is out on IV infusions, does a normal person need massive doses of various vitamins and minerals and amino acids and wotnot. I met a doctor recently (a private doctor, invested in flogging us wellness fixes as well has actually ministering to the unwell) who said the commonest three detoxes he does in his Swiss clinic are sugar and amino acids and one other thing that I can't remember which is written in a notebook by my bed where the early to bed boyfriend is in a deep sleep so you will have to wait for that thrilling news.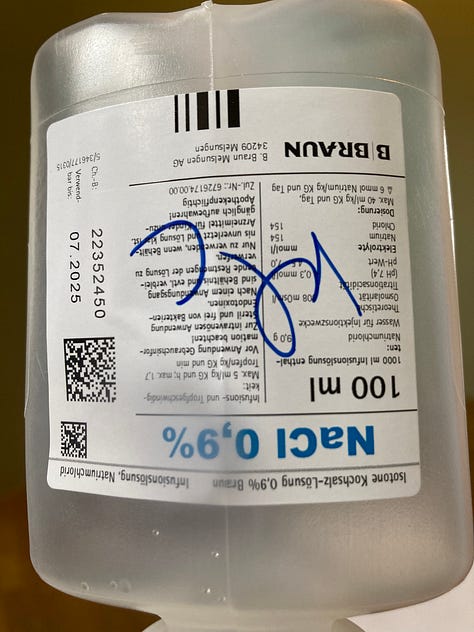 The British Medical Council is not keen on IVs, but we live in a post medicine age now. Ozone therapy (ozone is three oxygen molecules and poisonous) is controversial but GP was having it for long Covid, and one Spanish study of (admittedly 4 people with severe Covid) saw improvements in all of them after rectal ozone. In wellness ozone therapy is popular. In medicine it's not quite as poo poo'd as the GP haters might suggest but let's leave it there, it's too late for my weary brian to digest academic papers some distance from any potential expertise I might have (internet shopping, homemade dog food, and crisps).
Ozone is just one of those many many points of conflict between medicine and wellness. It's such a fun tension, it's like Trump v Biden, or vice versa. Or Man City versus Man Utd. It's just so tense. Wellness is quite keen on using things that haven't been rigorously tested - passing out really whopper doses of supplements and prescribing ozone when it hasn't really moved beyond some small trials. For all that people say pharma has overmedicalised us all, and for all the hideous murderous scandals, like the cynical commercially motivated overselling of opiate medicines like Oxycontin, or slimming tablets made of speed back in the day…
Medicine can be overly cautious. I remember the big health influencer, Davinia Taylor telling me that she couldn't be arsed waiting for the British medicines regulator to approve her beloved NAD+ injections, she wanted them NOW and she has them from a private clinic.
If you're in wellness then it is mandatory to hate on doctors and rattle on about Big Pharma all the time, even though we'd mostly all be dead without it's miraculous tablets intervening at crunch points in our precarious human existence. Even if we ate like Gwynethy wellness saints we could still be struck down by a genetic illness. We can thrive best with a judicious mix of both medicine and wellness advice. Just don't be conned by the people who will be earning money off your amino acid overdose.
One of the thing that has the whole world angry is that she not only fasts, she eats a lot of vegetables when she does eat and also commits to an hour of daily exercise.
Here's the inevitable screaming Mail headline
Self-styled health guru Gwyneth Paltrow is SLAMMED after sharing 'daily wellness routine' that consists of fasting, bone broth, vegetables, IVs, and an hour of exercise
What a fucking weirdo, doing an hour of exercise. I mean come on. Talk about throwing the baby out with the bath water. Fine, pick on her for being spoilt, white incredibly privileged, rich and just plain blessed, but don't have a go at her because she does a bit of exercise.
There's so much going on here, and like bullies we all want to pick on Gwyneth because she's making it easy. But. But. But! It's criminal to say this (in one of the stories about Gwyneth I read there was a trigger warning because the article discussed 'restrictive eating') But. But. But! I am going to say this and be damned by the three people that read my substack.
We do not need a lot of food to be healthy as long as the food we eat is sufficiently nourishing.
We do not need a lot of food to be healthy as long as the food we eat is sufficiently nourishing.
In studies a balanced diet that is calorie restricted is repeatedly seen as one of the surest routes to a long and healthy life in lab worms, flies, rats, mice, dogs and it is assumed in humans though it is hard to do conclusive lifetime studies on people. You know, that's just a fact I'm afraid. Eating too much puts stress on the body. After I put this 'stack up I received an excellent comment from Hettie Hirst about calorie restriction and longevity which went, "My uncle, doctor of tropical medicine, read the studies on calorie restriction in the 70s and did it. Bone thin and lived to 98 or so. Apart from a big stroke in his 80s, after which he never recovered his speech, he managed to live independently for another 10 years or so and was otherwise pretty healthy. On the other hand... I know he was very, very bored by life after all his contemporaries died, so perhaps longevity is not unalloyed bliss."
That doesn't mean that's why Gwyneth is doing it. Perhaps as she says she eats plenty. Somehow I doubt in her little eating window of what looks like lunch til early supper she is constantly returning to the cupboard for just one more biccie to dunk in her Assam. No, it'll be green teas and infusions and snacking on raw nuts. You just know it, don't you? To me, as an outside and keenish observer of the Paltrow "wellness protocol" It sounds a like an expertly managed case of not really eating much. 99% of showbiz n fashion sorts used to live like this for reasons of looking good on camera. Now probably that figure has dropped to 92% given the nods to body positivity. However, a fuller figured lady has yet to zip into, say, an Avengers costume; Kate Winslet is the exception that proves the leading lady rule: thin, thin, thin, preferably with nice tits, close to zero wrinkles and a shiny not grey hair.
And so the conversation could end here, another fierce poke at another minted princess telling us how she gets to be serene and slim unlike us lumpenprole willpowerless piggies down the hill with our fried breakfasts, croissants and roast potatoes, and our sad little creeps to the fridge for another piece of cheese and perhaps a dribble of wine to help it down.
See below, my breakfast lunch on Friday
Perhaps preserving a youthful, slender body is very important to her and perhaps she does have a little disordered eating going on - a lot of us do in this world of plenty. Managing our base appetites is good for our health. I know people are trying to dress obesity up as something other than unhealthy but it is unhealthy and that is a fact no amount of fuller figures on the cover of Vogue will change. I'm not saying everyone should be aiming to be like a wafer lady, and it is jolly hard to eat well sometimes but don't pretend being overweight or obese is good for you. It isn't. Neither is smoking or drinking, or sitting on your arse all day. I do all these things, I have had my chubbly times, smoked, drunk, done all the bad things, I don't exercise for an hour every day - unless beavering around behind two nutter podencos counts (it's technically better than nothing I suppose but isn't much more than nothing).
And before you start howling that I am pro-Ana and talking bad shit, then I just want to say one of the anomolies in the calorie restriction studies is that while it may be good for us not to eat too much, it is really hard - for most people nigh on impossible - to live in a state of almost starvation. And so the number of people who eat calorie restricted for the sake of longevity (rather than thin leggity) is very low. I know, I have been trying to find one to talk to me for a health story I am doing on the latest study to come out that punts not eating much as a great longevity hack.
I can't find anyone that truly practices it. Because it's bloody hard.
We are hardwired to eat because our body's still living in a time when there may not be another meal for a while, we are in our primitive mammalian brains, like dogs who woof down food, and snatch old Kentucky scraps from the gutter, because we are scared we might starve to death otherwise. Our mammalian brains don't know Co-op have got two for £2 on their own brand Kettle Chips this week so, you know, we definitely won't be going hungry.
I've got to go to bed. I've been sitting on my arse all day trying to finish a book proposal, and I am late with everything in my life and haven't got enough money to buy bog roll let alone have ozone insufflated up my botty for dubious medical benefit at £200 a pop, blow, suck, however it is it's done
Paid subscribers get some heavy duty long and informative posts that I spend a disproportionate amount of time putting together. It's worth the $50 a year, approx £3.50/month. it's got no up the jacksie nonsense, it's just me trying to SORT MYSELF OUT.
Functional medicine people like Will Cole prescribe bone broth for fixing and nurturing the gut lining and it is prescribed as a tonic for things like leaky gut. When I whip up bone broth sometimes I like to throw a bit of proper whole smashed turmeric and black pepper and salt. Then I simmer it in the oven for many hours and it's lush, I often have a mug to drink and then I set the rest aside. When it gets cold it sets to a jelly because it's basically liquid collagen and other good structural bits from the animals. I use this flavoursome liquid to make stews, pies, soups and real food. Stock is a crucial foundation to cooking. As the great chef Fergus Henderson, who coined the phrase, "Nose to Tail" back in the early nineties, says, "Stock is fundamental. There is almost nothing as reassuring as having some stock up your sleeve."
I don't recommend you keep stock up your sleeve, neither do I think it's nutritious enough for lunch. I believe Gwyneth was taking the bone broth for tonic healing purposes. I'd use it to make a nice liquid to cook the meat for a pie in, for eating purposes. I did this on Friday actually. With this recipe. But then I am not Gwyneth. She can do what she likes. We like it when she does because we can talk about it for days and further fuel her wellness celebrity. What would we talk about without GP?
When I strain off the juice from the bones I give the latter to the dogs because boiled bones are not dangerous for them to eat and while I have snaffled all the goodness for the humans, the dogs get the hard stuff which translates into fun for them and joyously small, hard poos for me to stoop over their maidservant the following day.
And that's as good a place as any to say, Ta-ra kidz. Have a good week.